Quick Tournament Scheduling
Consider Everything, Never Miss On Anything!
Consider every aspect of your tournament while scheduling - Participants, Teams, Venue, Court, Timings & Availability
All your tournament variables as listed below aren't variables anymore. Manage them with ease.
Fixture Types - Knockout, Round Robin, Group Playoffs & Custom

Player Seeding

Tournament Dates

Match Duration & Break Duration

Multi Venue & Multi Court Scheduling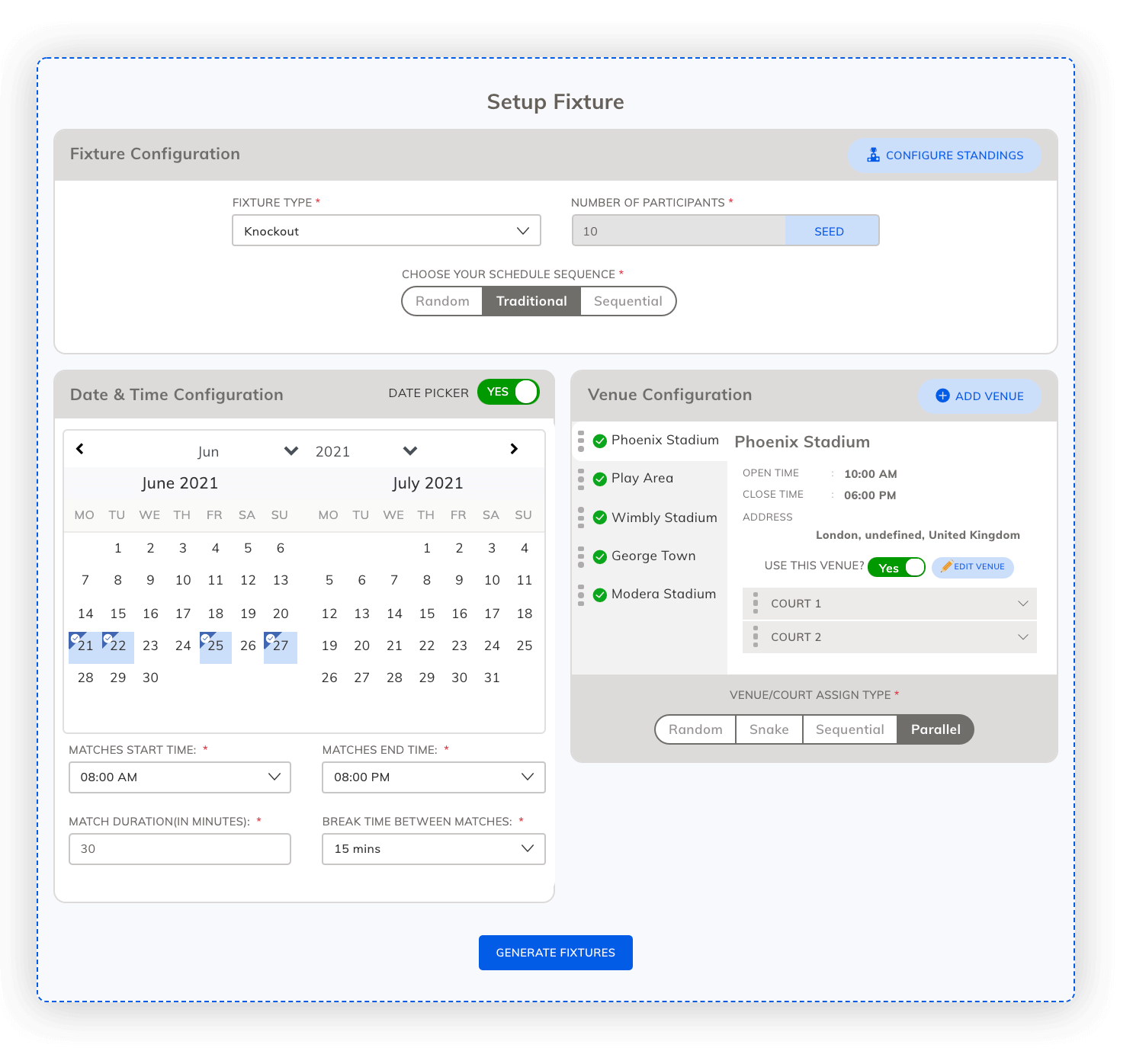 Team & Player Seeding
Spice Up Your Fixtures & Make It Fair
Seed your participants in the order of ranking or profeciency to make your tournament games fair.
With our drag & drop feature, seed the participants the way you want.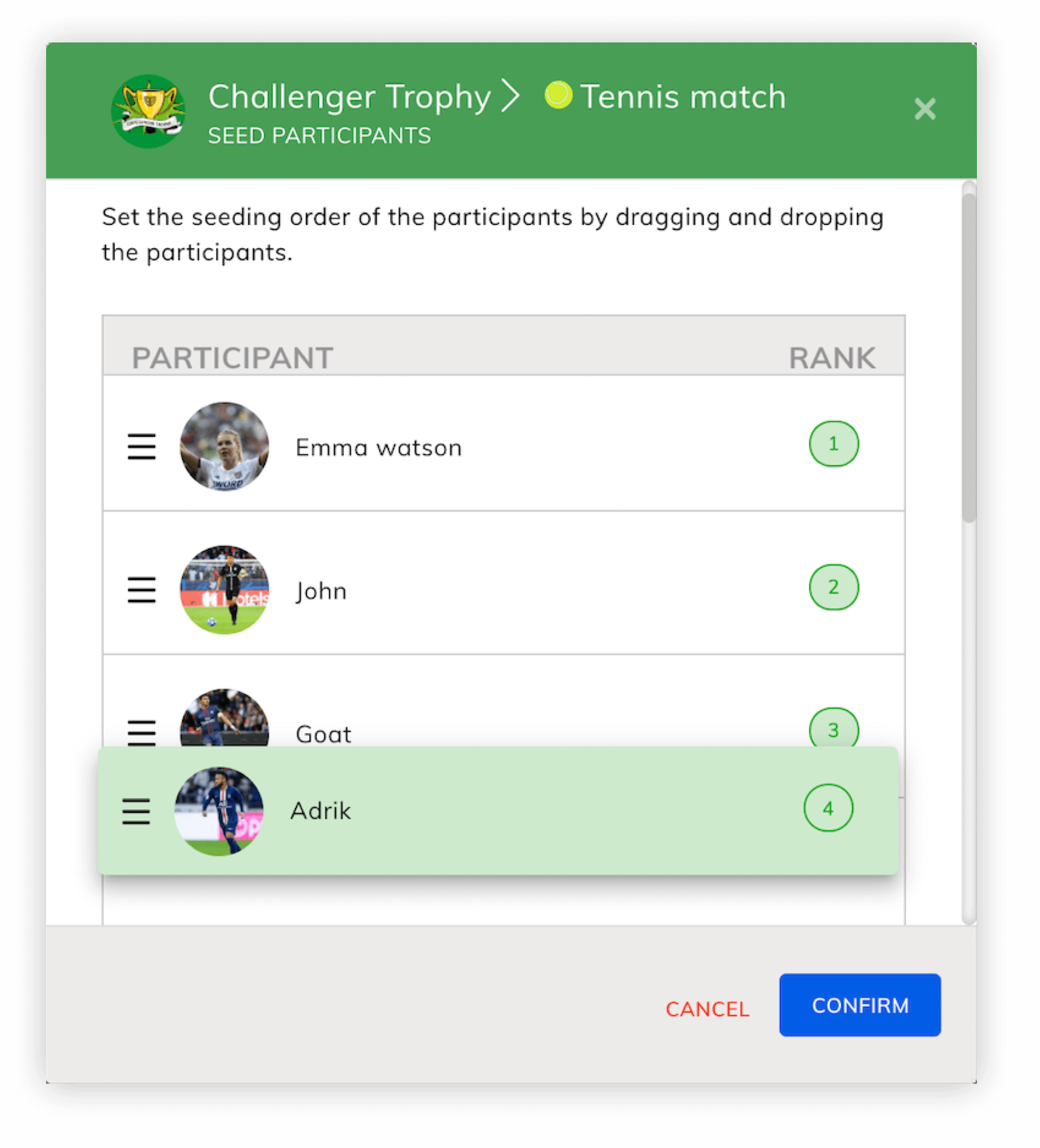 Prebuilt Scheduling format
Our Auto-generators Can Schedule Your Tournament Across Popular Tournament Formats
Have complete control over your tournament schedule - from date & time, venues & courts, participants & seeding, scheduling type such as Knockouts, Round Robin, Group Playoffs and Custom.
Knockout / Single Elimination / Bracket Generator
Classify participants into brackets of two where the winner of each bracket advances till the final match.
Elegant bracket design

Optional third-fourth place match

Up to 128 participants/teams
Groups + Playoff Format
Create a first round with as many groups as you want, and have the top-ranked teams play in a final knockout stage.
First stage: round-robin groups, final stage: playoff brackets

Custom number of qualified per each group

Design in advance qualified starting positions in final stage bracket
Round Robin / League Format
Ideal for small tournaments where each participant contends in turn with every other participant. Configure multiple rounds in a jiffy.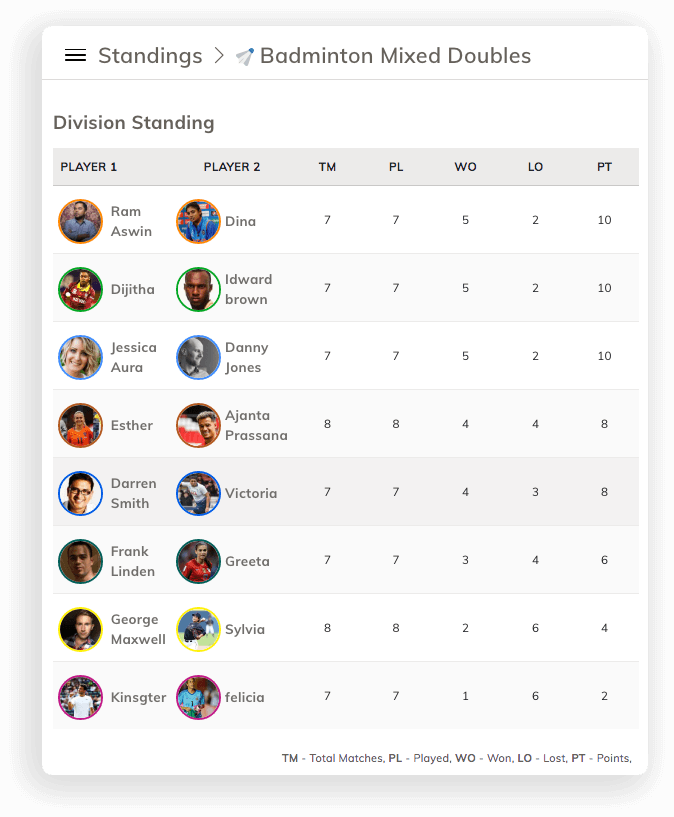 For Everything Else
Custom Fixtures
Schedule matches the first round as and when participants register and have top ranked participant proceed to the next round. Create multiple such rounds.
Ideal for tournaments with on-the-spot registrations.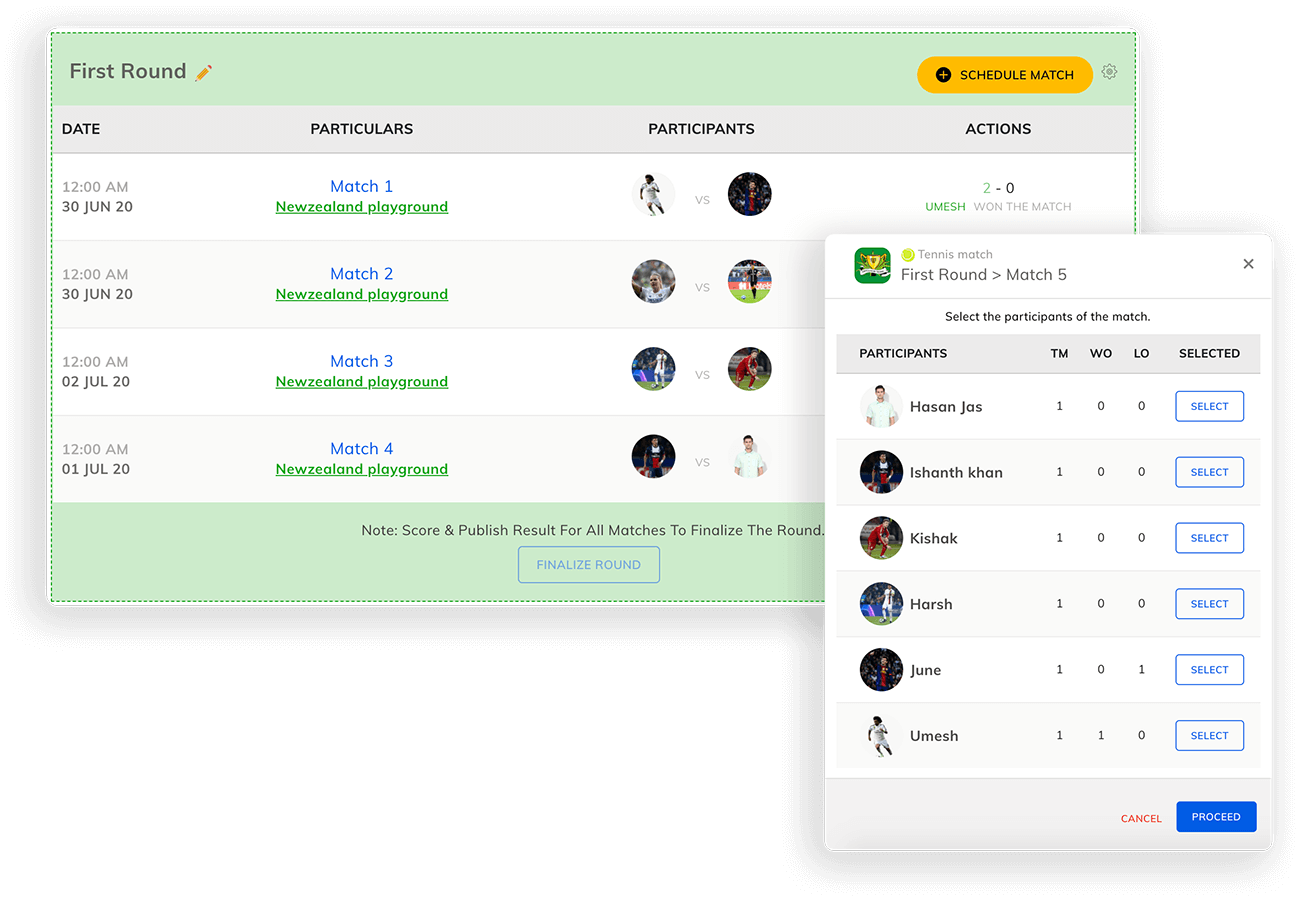 DRAG & DROP SCHEDULER
Visual Editor For All Your Tournament Matches
View your scheduled games across multiple days and multiple venues & courts.
Moving matches is a simple as dragging and dropping them on a calendar and you'll have all the info you need on each day of your tournament. You can schedule hundreds of matches with a few clicks and PLAYINGA checks for any conflicts that might arise, such as a player playing two matches in too short of a timespan.
Other Features
Features of PLAYINGA Tournament Management Software
ACTIVITY FEED
Let the spirit of your tournament last longer through text and media feeds from players, teams and fans of your tournament from the field.
MULTI SPORT - MULTI DIVISION
One tournament can have multiple sports and multiple divisions (Eg. U19, Mens Singles), thereby allowing you to organize championships.
SEEDED PLAYERS
Add fixed seed numbers to players who may pass over the first round(s).
Multi Venue & Multi Court Scheduling
Schedule tournament matches across multiple venues. Matches gets scheduled based on availability of slots on those venues.
NEXT ROUND PREFILL
Players automatically flow through to the next round when they have won their match, no need for manual activities.
CUSTOM STANDINGS
You can add custom sport specific standing points like Net Run Rate, Fair Play Points etc and enter values in each match.
SPONSORS
Give your tournament sponsors the importance they need. Manage multiple sponsors across various categories.
E-MAIL UPDATES
PLAYINGA specifically informs the participant players & teams of the tournament progress and schedule changes.
ROLES & PERMISSIONS
Delegate tournament management responsibilities in the most granular ways to your organizing team.
Free Tournament Software
Big Tournament Features At No Cost
Features

$0

Maximum Number Of Applicants Per Division

(Player, partner and team are considered as applicants)

1024

(Applicants per division)

Multi-Sport Tournament
Customize Tournament Page

(Tournament Branding - Color, Logo, Banner)

Manage Sponsors
Allow Tournament Registrations
Add Participants
Collect Registration Payments
Customize Registration Form

(10 custom fields per division)

Manage Tournament Finances
Contingent Participation

(Apply as a single team for multiple division and overall standings across multiple divisions)

Fixtures Type

(Knock-out, Groups + Play offs, Round Robin, Custom Fixtures)

Multi - Venue Scheduling and Slotting of fixtures
Email Notifications

(To participants as and when they progress in the tournament)

Sport & Match Specific Statistics For Players & Teams
Basic Standings
Customize Standings & Statistics
Custom Roles & Permissions
Ad Free
Let's Put Up A Great Tournament Together!