Customized Tournament Page
Your Tournament's Spotlight
Display everything that's important to your league/tournament. Engage participants and followers with match information, standings and statistics in a single place.
Customize the tournament microsite to make it truly 'yours' - from colors to styling with no coding skill.
Access your website on any device, from desktops to mobile phones.
No coding required.

Unlimited hosting and web storage.

Mobile friendly.

Choose your colour theme.

Show standing, results and matches.

Player and team statistics.

No advertisements.

Display your league sponsors.
Custom registration Forms
Stress Free Registration
Build a registration process that's tailor-made for your tournament and generate easy-to-use forms.
Say goodbye to manual entry and hello to teams and players as they self-register
Less Paperwork. More Registrations.
Supports multiple sports and multiple divisions within the same tournament.

Customizable form fields and collect right data from applicants.

On the spot tournament registration.

Collect waivers.

Modify application or withdraw from the event.
Integrated Payment Collection
Money-Making Tournaments And Leagues
Collect registration fees securely using our integrated payment gateway, which will be later transferred to your account automatically.
Encourage earlier sign ups by implementing early bird discounts or late fee scenarios.
Online and secure.

Auto settlement to your bank account.

Setup division and tournament level registration fees.

Auto compute early bird and late fee pricing.

Accept donations and add ons.

Track offline payments received from applicants.

Collect and track taxes separately.

Reconcile tournament registration payments received.
Out-of-the-box Schedule Generator
Generate Schedule For Your Tournament!
Never Has It Been So Easy!
You can schedule hundreds of matches with a few clicks and PLAYINGA checks for any conflicts that might arise, such as a player playing two matches in too short of a timespan. Leverage our drag & drop scheduler to view all your tournament matches in a calendar.
You have complete control over player positions, seeding placements and randomization, byes, draw display options and more.
Playoffs / Knockouts / Brackets
Fixture for you to knock it out of the park!
Classify participants into brackets of two where the winner of each bracket advances till the final match.
Elegant bracket design

Optional third-fourth place match

Up to 128 participants/teams
Round-robin
Round Robin Fixture, made straight forward!
Ideal for small tournaments where each participant contends in turn with every other participant. Configure multiple rounds in a jiffy.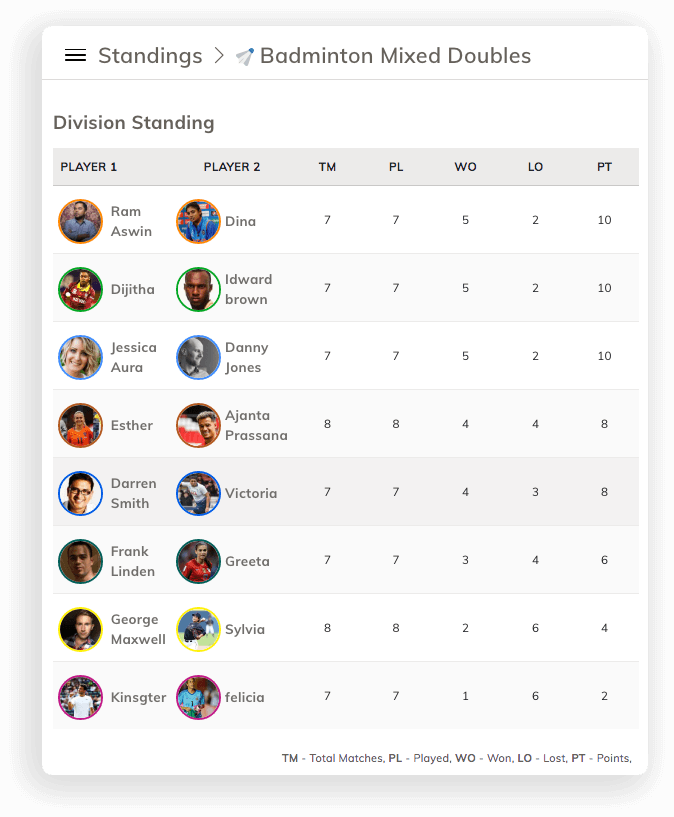 Groups + Playoff
Complex on paper,
breeze in PLAYINGA!
Create a first round with as many groups as you want, and have the top-ranked teams play in a final knockout stage.
First stage: round-robin groups, final stage: playoff brackets

Custom number of qualified per each group

Design in advance qualified starting positions in final stage bracket
Custom Fixtures
Un-Fix Fixtures! Customize It!
Schedule matches the first round as and when participants register and have top ranked participant proceed to the next round. Create multiple such rounds.
Ideal for tournaments with on-the-spot registrations.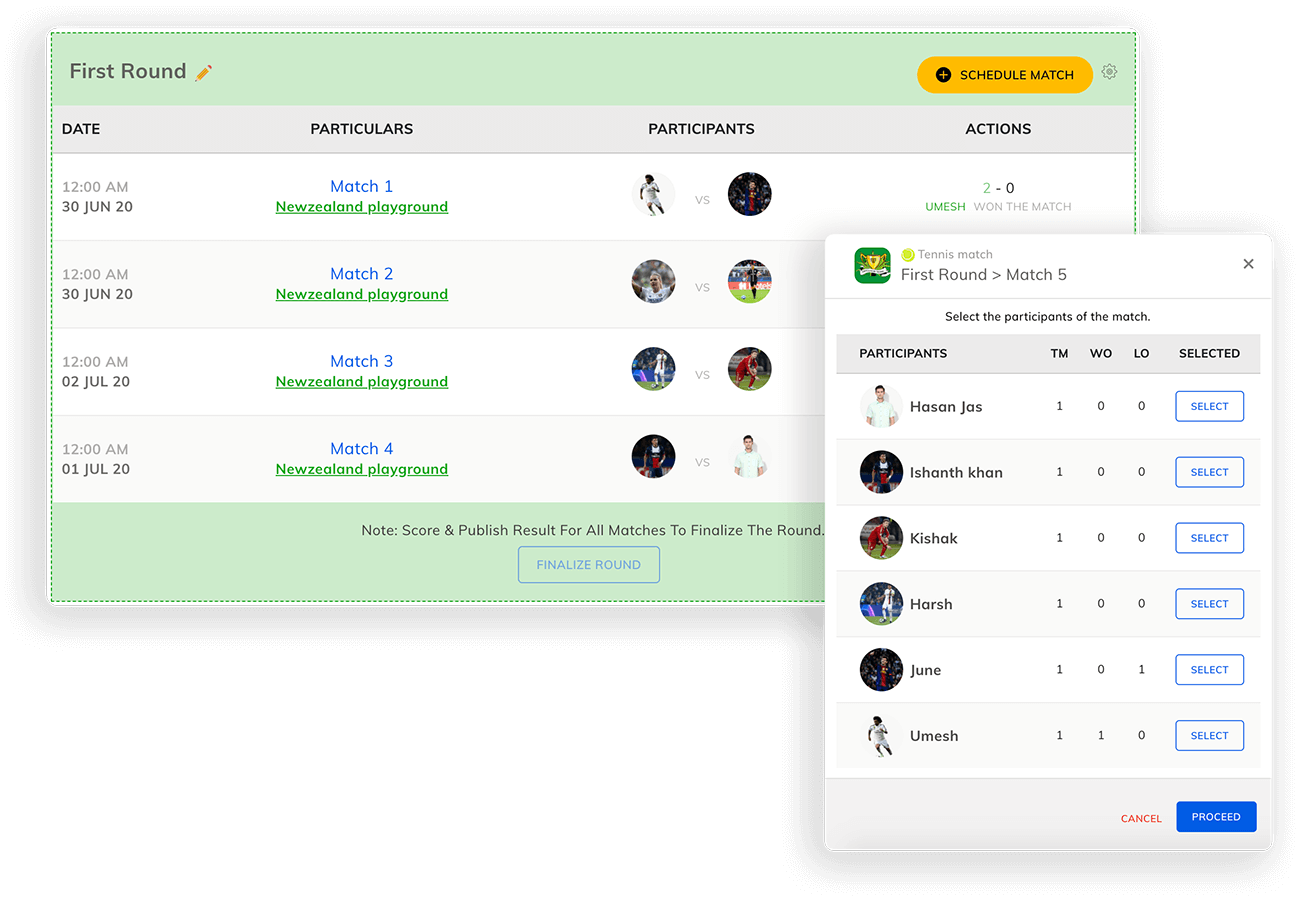 DRAG & DROP SCHEDULER
Visual Editor For All Your Tournament Matches
View your scheduled games across multiple days and multiple venues & courts.
Moving matches is a simple as dragging and dropping them on a calendar and you'll have all the info you need on each day of your tournament. You can schedule hundreds of matches with a few clicks and PLAYINGA checks for any conflicts that might arise, such as a player playing two matches in too short of a timespan.
Real time Standings updation
Automatic Tournament Participant Progression And Standings Updation
Save time, work and effort letting automatic standings do calculations and point awarding realtime.
Standings automatically update when results are entered and approved.
Change how many points are awarded for wins, ties and loses. Customise which columns are shown and their descriptions.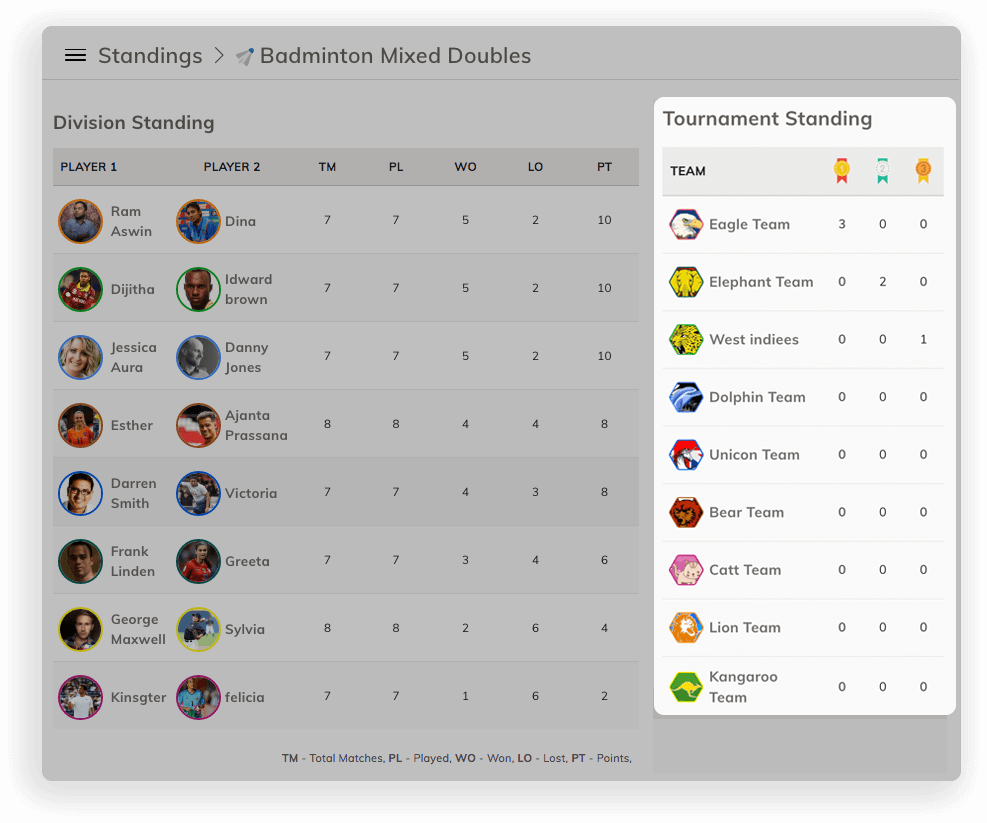 Online Payment Processing
The Easiest Way To Collect and Pay
Collect registration fees to join your tournament.
PLAYINGA conveniently summarizes the progress of your collections and directs your attention to the important stuff. Instantly know which payments and players need your attention.
Offer your players a more convenient and secure way to pay with online payment processing.
Manage Invoices
Manage Tournament Invoices
PLAYINGA takes the stress out of tournament finances so you can keep your eye on the ball.
No more jumping between your email, roster, and bank account, because it's all here in one place.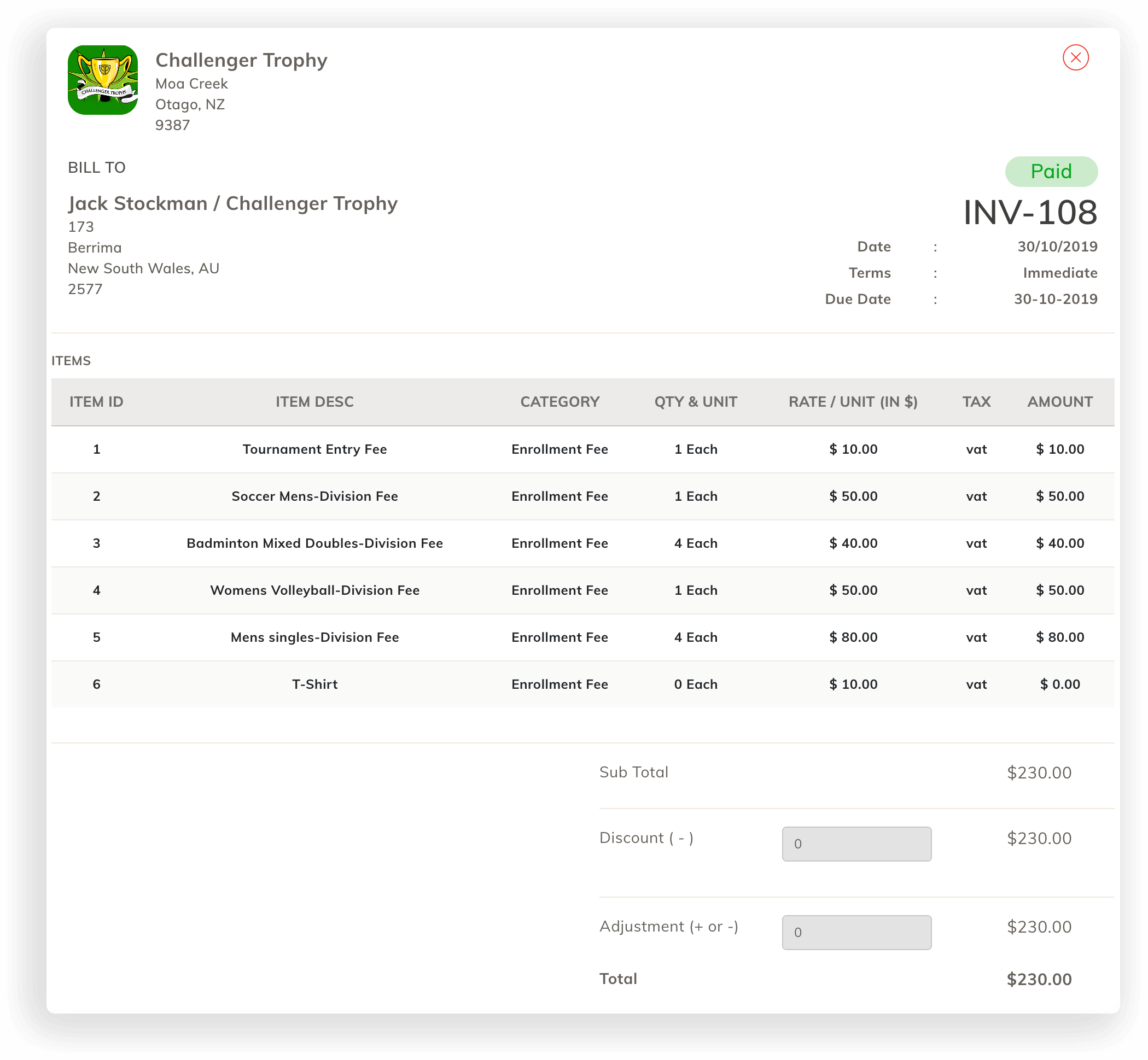 Gallery
When You Can Organize Your Sports Events, Why Not It's Memories?
Create albums and store photographic memories
Let PLAYINGA auto-organize your photo albums by games and matches you play.
Tag players and friends to share these memories.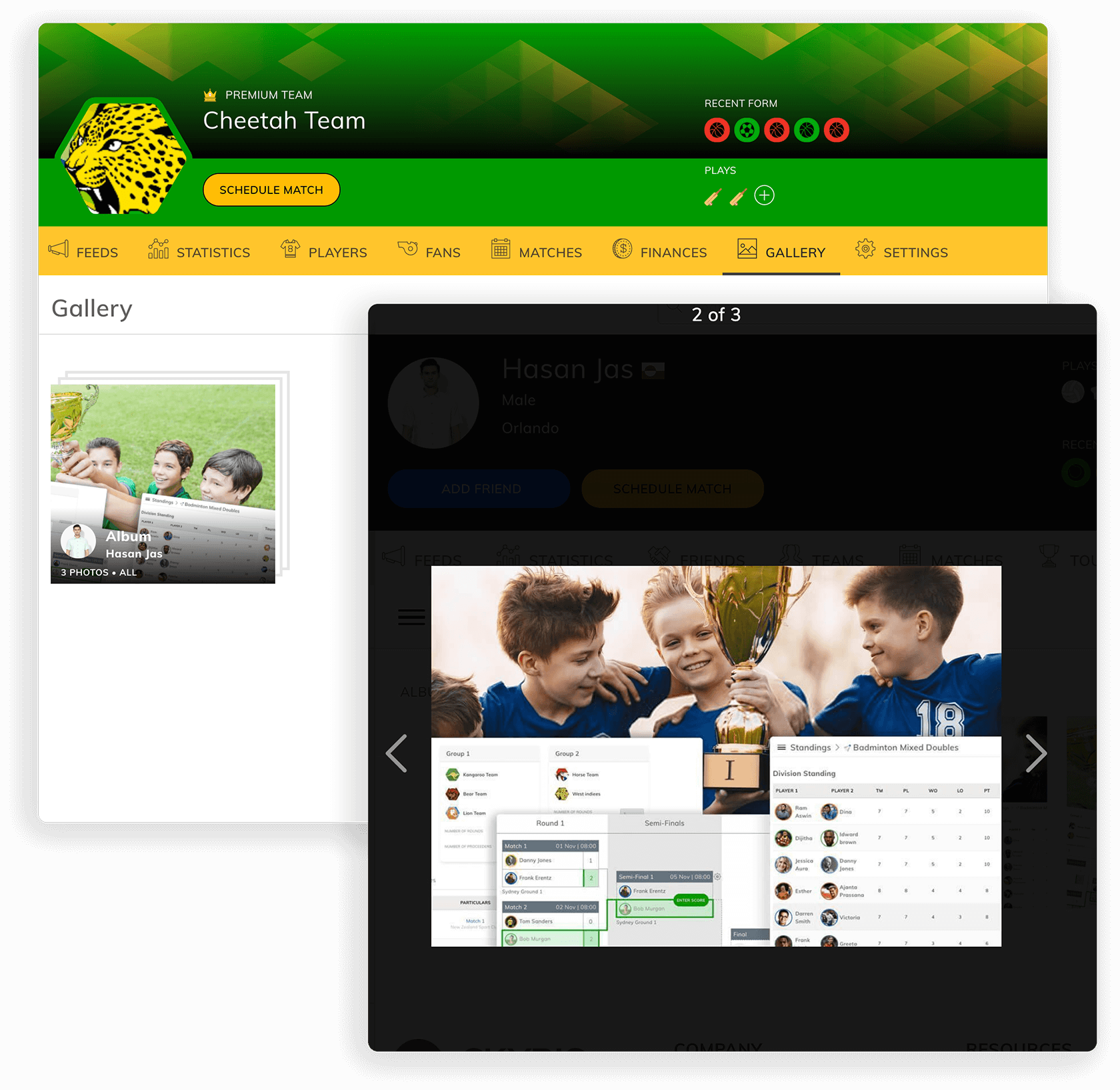 Other Features
Other Features
ACTIVITY FEED
Let the spirit of your tournament last longer through text and media feeds from players, teams and fans of your tournament from the field.
MULTI SPORT - MULTI DIVISION
One tournament can have multiple sports and multiple divisions (Eg. U19, Mens Singles), thereby allowing you to organize championships.
SEEDED PLAYERS
Add fixed seed numbers to players who may pass over the first round(s).
MULTI VENUE SCHEDULING
Schedule tournament matches across multiple venues. Matches gets scheduled based on availability of slots on those venues.
NEXT ROUND PREFILL
Players automatically flow through to the next round when they have won their match, no need for manual activities.
STATISTICS
Sports specific statistics gets aggregated division wise and tournament wise.
CUSTOM STANDINGS
You can add custom sport specific standing points like Net Run Rate, Fair Play Points etc and enter values in each match.
SPONSORS
Give your tournament sponsors the importance they need. Manage multiple sponsors across various categories.
E-MAIL UPDATES
PLAYINGA specifically informs the participant players & teams of the tournament progress and schedule changes.
ROLES & PERMISSIONS
Delegate tournament management responsibilities in the most granular ways to your organizing team.
Free Tournament Software
Big Tournament Features At No Cost
Features

$0

Maximum Number Of Applicants Per Division

(Player, partner and team are considered as applicants)

1024

(Applicants per division)

Multi-Sport Tournament
Customize Tournament Page

(Tournament Branding - Color, Logo, Banner)

Manage Sponsors

Allow

Tournament Registrations

Add

Participants

Collect Registration Payments

Customize Registration Form

(10 custom fields per division)

Manage Tournament Finances

Contingent Participation

(Apply as a single team for multiple division and overall standings across multiple divisions)

Fixtures Type

(Knock-out, Groups + Play offs, Round Robin, Custom Fixtures)

Multi - Venue Scheduling and Slotting of fixtures

Email Notifications

(To participants as and when they progress in the tournament)

Sport & Match Specific Statistics For Players & Teams

Basic Standings

Customize Standings & Statistics

Custom Roles & Permissions

Ad Free
Let's Put Up A Great Tournament Together!