Customized Team Page
Your Team's Identity
Customize your team page to make it truly 'yours' - from colours to styling to sponsors.
Team Microsite keeps players and fans informed while they are away from the field.
Collaborate, Communicate and Celebrate!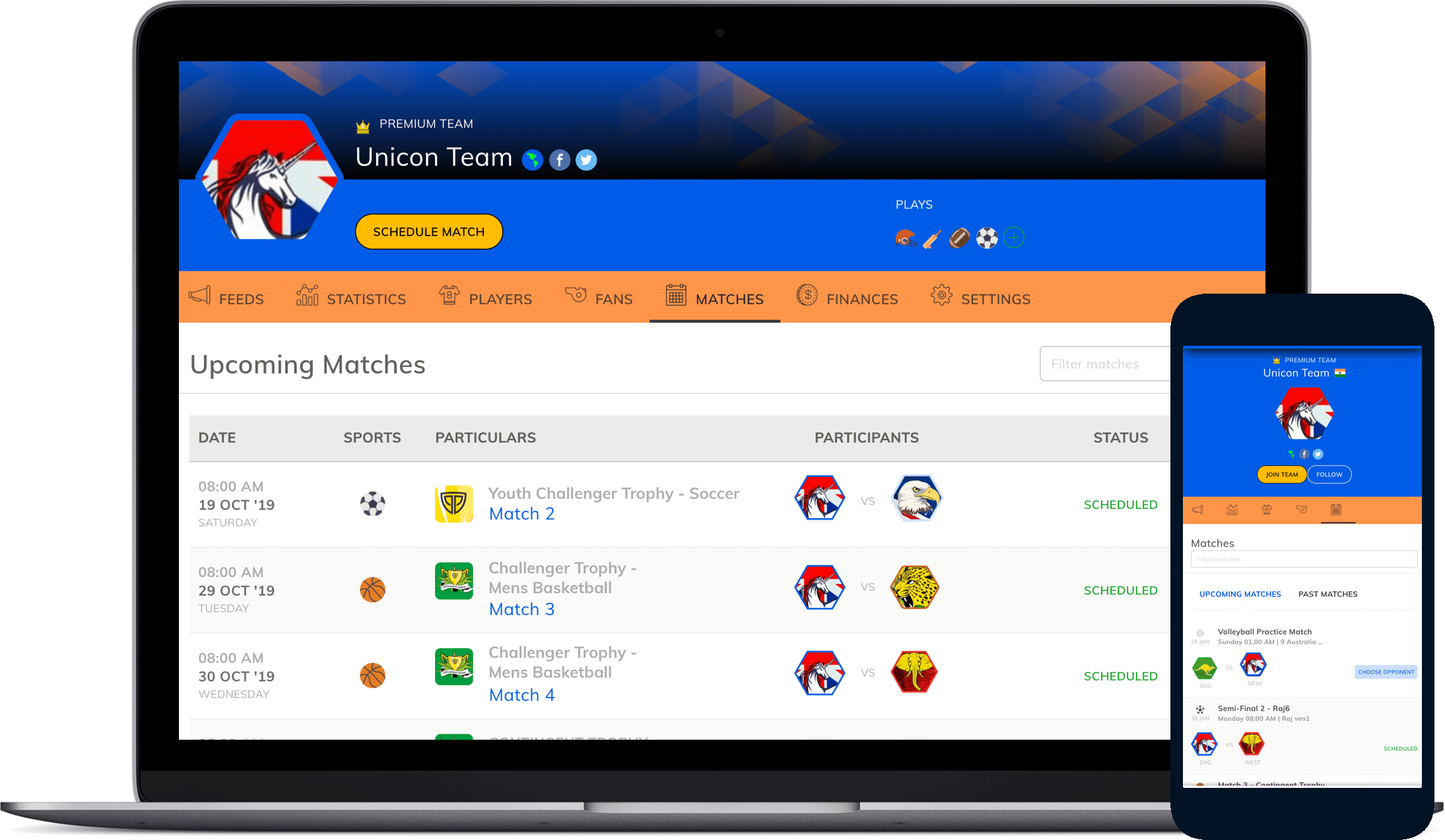 Team Roster Management
Simplified Player Management
Add players to your team through a simple search or by accepting applications from players.
Say goodbye to manual entry and hello to automation as players self-register.
Manage roles, key responsibilities and jersey number for players in your team with just the tap of a button!
Team Schedule
What's On, At A Glance.
What's on this weekend, or over the next week? Need to find a particular event? No worries - PLAYINGA has you covered. It's never been easier or quicker to manage your schedule.
All team players get access to the team schedule and are automatically notified of last-minute changes in schedule or venue to avoid surprises and get notified when match results are published.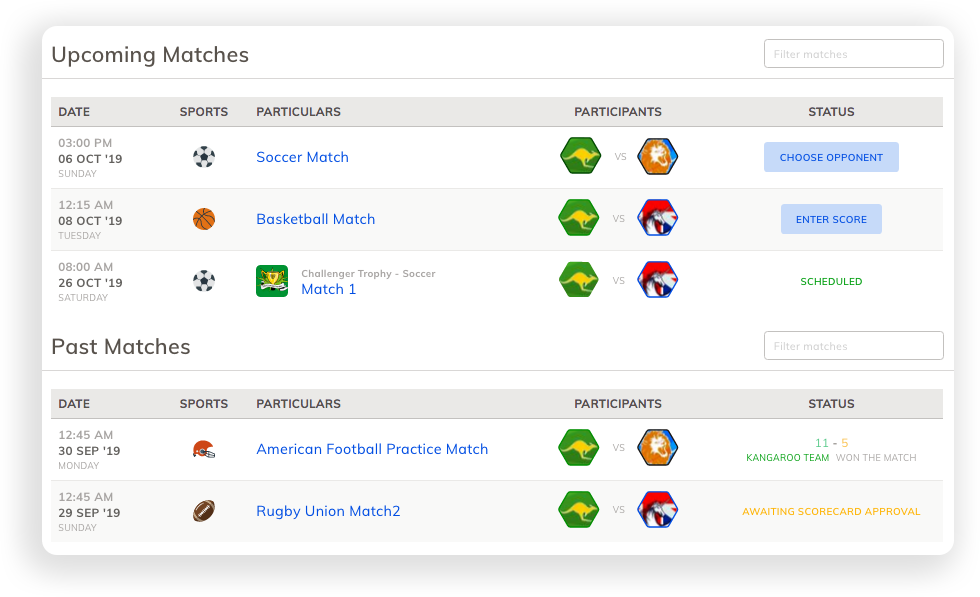 Team Statistics
Everything You Need For How Your Team Works!
Everything you need to analyse how your team works.
Strategize your upcoming matches better by using team specific statistics that reveal your team's journey and player contributions.
Motivate and inspire your team with team and player statistics.
Every win, Every loss, All the stats, automatically logged and displayed after every game.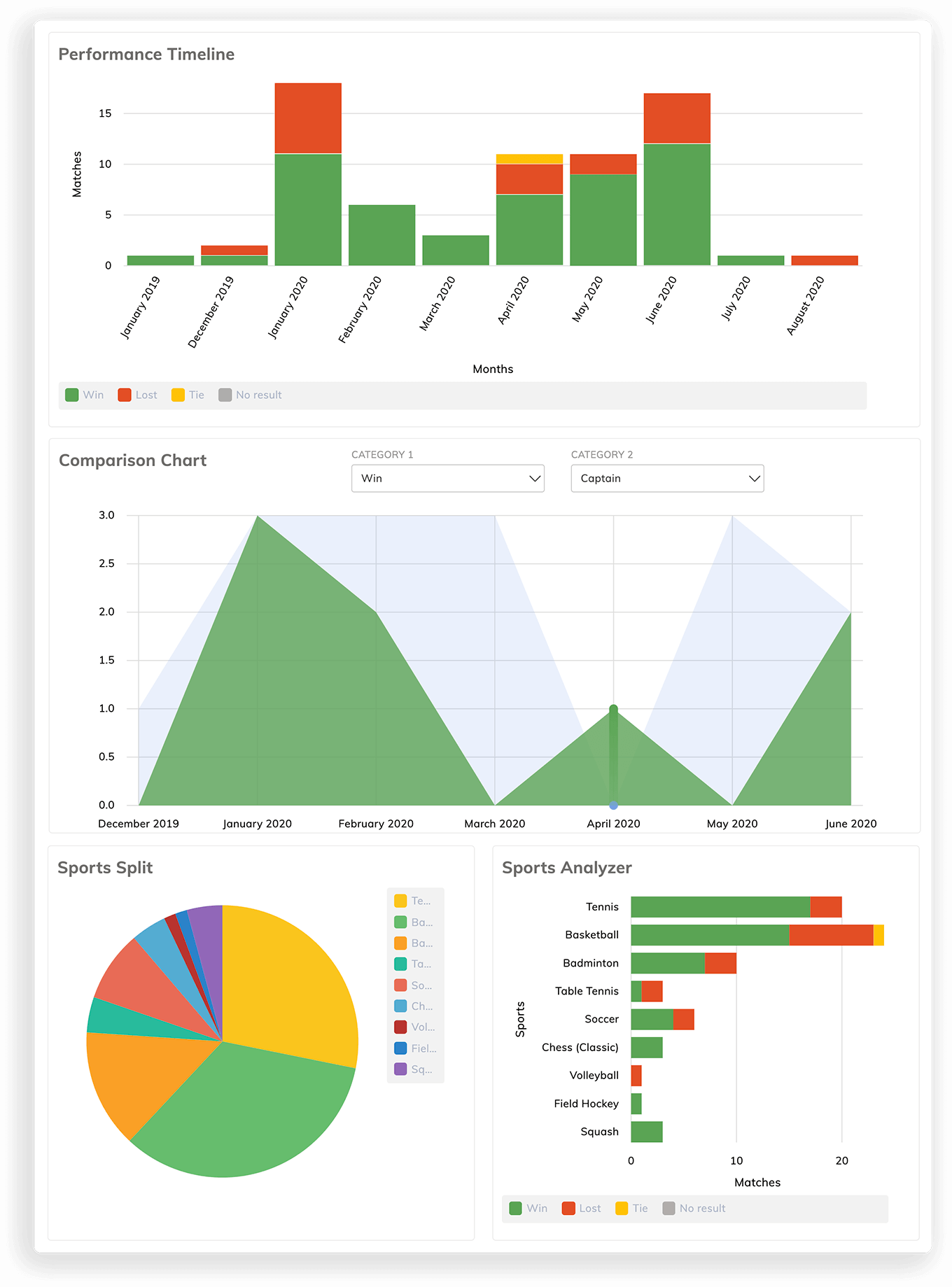 Online Payment Processing
The Easiest Way To Collect and Pay
Collect registration fees to join your team and raise invoices for expenses made on behalf of the team.
PLAYINGA conveniently summarizes the progress of your collections and directs your attention to the important stuff. Instantly know which payments and players need your attention.
Offer your players a more convenient and secure way to pay with online payment processing.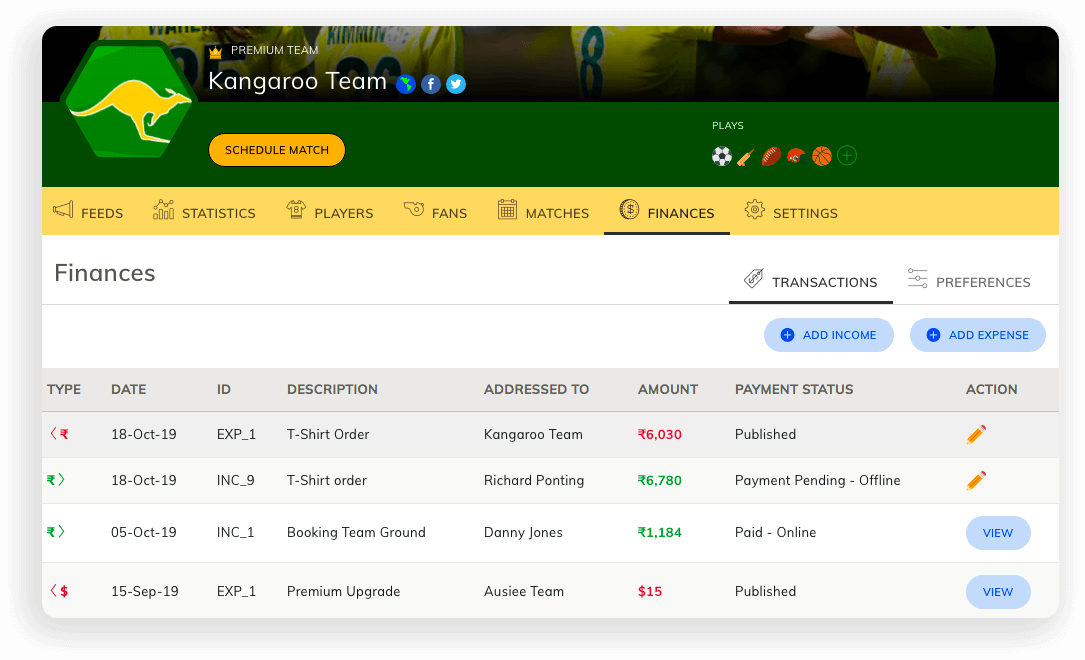 Manage Invoices
Manage Team Invoices
PLAYINGA takes the stress out of team finances so you can keep your eye on the ball.
No more jumping between your email, roster, and bank account, because it's all here in one place.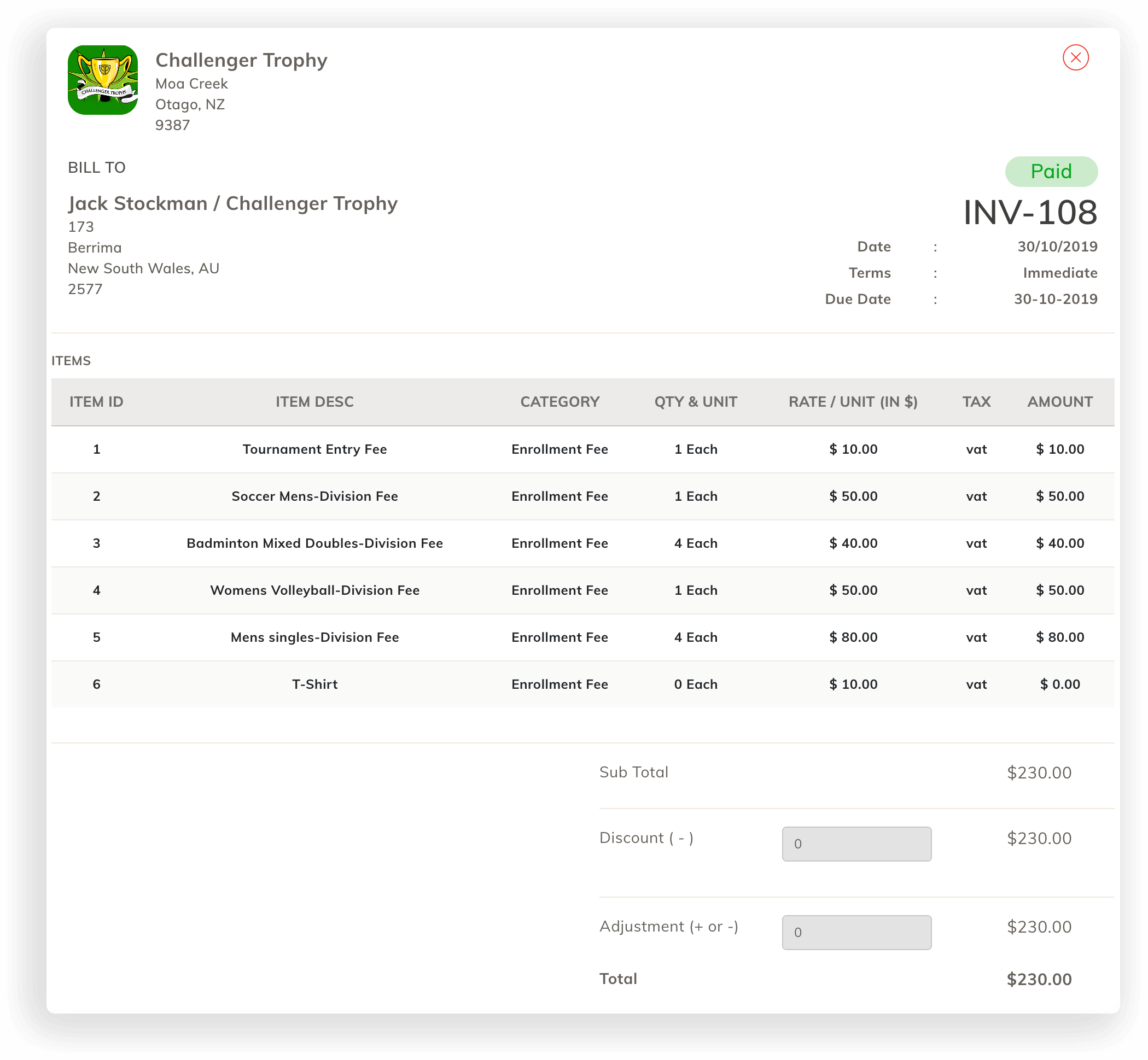 Gallery
When You Can Organize Your Sports Events, Why Not It's Memories?
Create albums and store photographic memories
Let PLAYINGA auto-organize your photo albums by games and matches you play.
Tag players and friends to share these memories.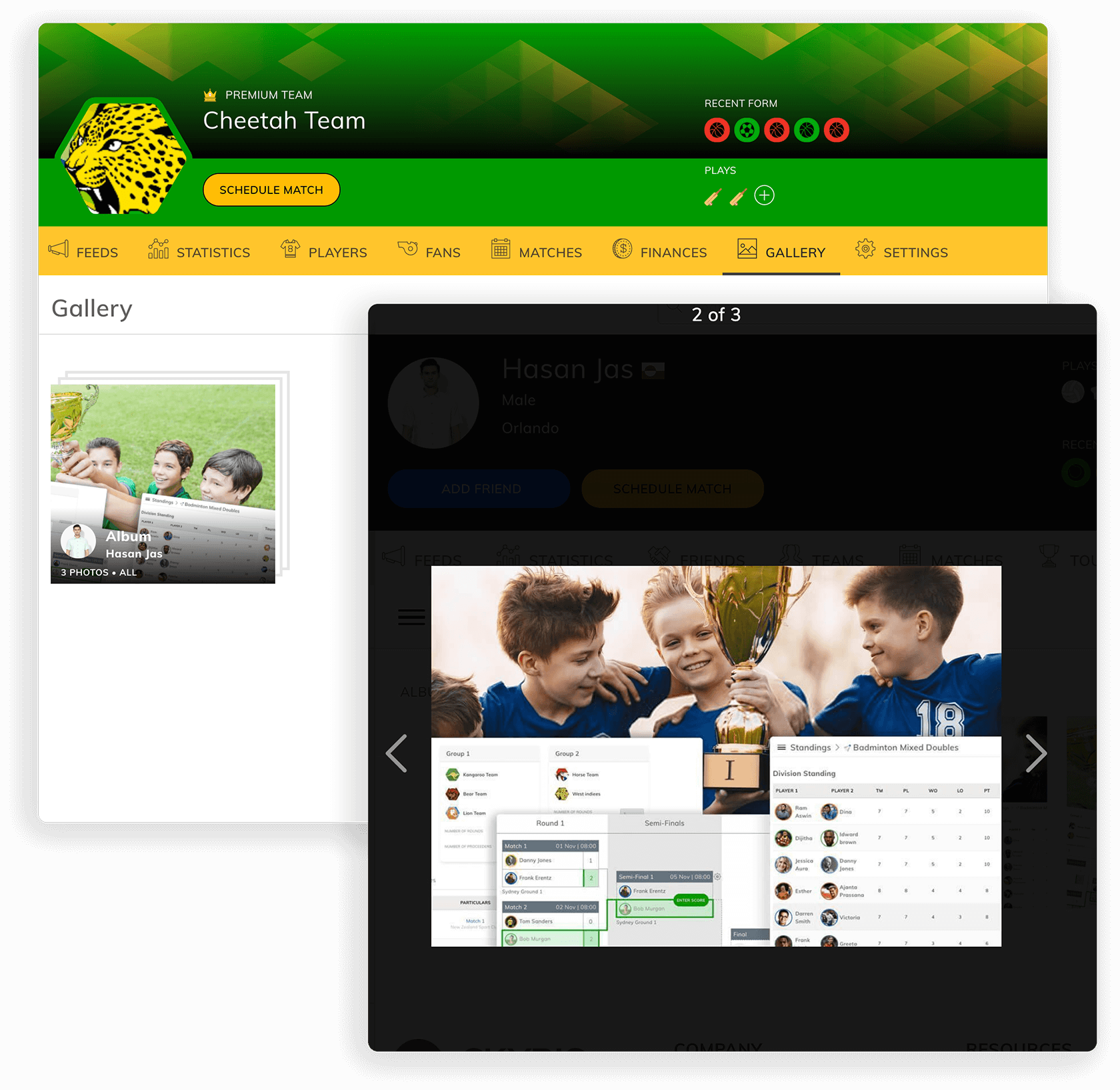 PLAYINGA On Your Site
Take The Best Of PLAYINGA Onto Your Site
Embed Playinga components in your wesbite.
Compatilbe with any CMS like Wordpress, Joomla etc. or on your own website. PLAYINGA templates adapts to your website styling and works seamlessly.
NO CODING REQUIRED - Just Copy & Paste!
Fan Management
Engage Team's Fans
Utilize your team's visibility in PLAYINGA to build a fan following.
Your match schedule, results and success stories are shared with your fans so they can cheer your team!
Other Features
Features of PLAYINGA Team Management Software
ACTIVITY FEED
Give your team a dedicated space for internal communication to have every member in the loop while discussing key ideas and to boost player morale.
ONE TEAM, MULTIPLE SPORTS
Give your every team in PLAYINGA the flexibility to play any sport and to get involved in multiple sports based on shared interests.
E-MAIL UPDATES
Notify players and team members of important match and roster updates through email.
ROLES & PERMISSIONS
Delegate team management responsibilities in the most granular ways to your team members.
SPONSORS
Give your team sponsors the importance they need. Manage multiple sponsors across various categories
ALERTS & NOTIFICATIONS
Notifications for all the important stuff – from game schedule changes to payments to messagesand more.
PAYMENT REMINDERS
Keep a tab on all payments. Send payment reminders to your team players.
EXPORT TO SPREADSHEET
Export player roster, team match schedule and financial transactions to a spreadsheet.
FREE TEAM MANAGEMENT SOFTWARE
Manage Your Sports Team For Free
Our free premium version boasts everything your team needs to stay on top of things with all the advanced features.
Features

PREMIUM




$0

Ad-Free
Multi Sport Teams

(One team for multiple sports)

Manage Player Roster

(Upto 50 Players)

Team Match Schedule and Results
Track Team and Player Statistics
Premium Team Branding

(Team Branding - Color, Logo, Banner)

Assign Roles and Permissions To Team Players
Photo Gallery
Manage Team Finances

(Collect Online Payments. Keep Track of Income & Expenses)

Manage Team Sponsors
Fan Management

(Upto 1000 fans)