SCHEDULE MATCHES
A Simple Way To Challenge Yourself For A Match
With PLAYINGA, you and your teams can schedule, record and track unlimited matches! Make every game count.
Schedule an open challenge match for friends and other PLAYINGA members to accept the challenge. From the list of applicants, make any one of them as your opponent for the match and play with them.
Apart from Open Challenges, you can also directly challenge other players or teams for a match and prove your mettle. You can also schedule practice and ad-hoc matches for your teams in a jiffy.
IN-BUILT SCORING
We Handle All The Rules While You Score The Game
PLAYINGA's built in scoring engine enforces sports specific scoring rules thereby preventing scoring errors. Be it any sport, score with PLAYINGA.
Score your match right from the field and automatically publish them on PLAYINGA. A lucid design and easy interface that makes scoring on the go possible with room to capture every detail of the match.
MATCH STATISTICS
Capture Everything And Analyse Anything!
PLAYINGA intuitively calculates team and player specific statistics with minimal entry and no setup effort. For other game specific advanced statistics you can manually enter them for every match.
After every game each player's and team's statistics are automatically computed, aggregated and updated based on the sport.
Keep track of your performance like Pros do!
Realtime Cricket Scoring
Ball by Ball Scoring For Cricket
Stop using painful paper scorecards and score your matches on PLAYINGA just like an international match. PLAYINGA auto populates player information from teams and auto populates scores and stats for every ball bowled.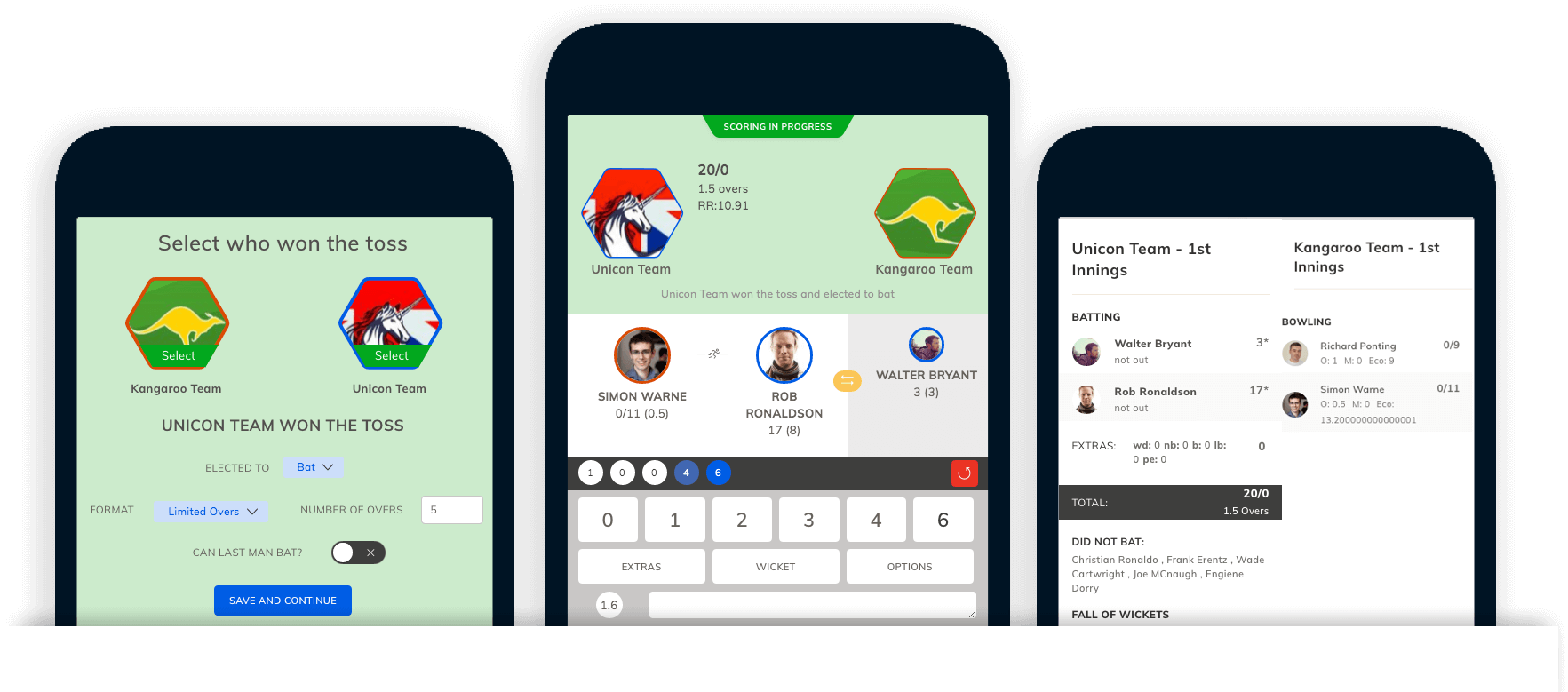 Other Features
Match & Scoring Features
MATCH FEED
Let the spirit of your match last longer through text and media feeds from players, teams and fans of your match from the field.
EASY RESCHEDULING
Simplified rescheduling of matches. Just update the existing match details to notify all the stakeholders immediately by email.
MATCH UPDATES
Email notifications gets shared on every update for a match including match schedule, updates and match results
SCORING APPROVALS
Scores are published only when all participants of the match have accepted to the final scores of the match.
SCORING PERMISSIONS
Scoring is supported by members who have access to score the match.
STATISTICS
Sports specific statistics gets aggregated division wise and tournament wise.
Nothing To Setup. Ready When You Want To Play!