For Chess (Classic) Tournament Organizers
All In One Chess (Classic) Tournament Software
With PLAYINGA you can accept online entries, manage and schedule draws, communicate easily with participants, recognise sponsors and provide comprehensive reporting on all aspects of your event. The tournament platform has been used by small tournaments at a single venue, through to international events with thousands of participants across a dozen venues. All you'll need to run your tournament is a modern web browser.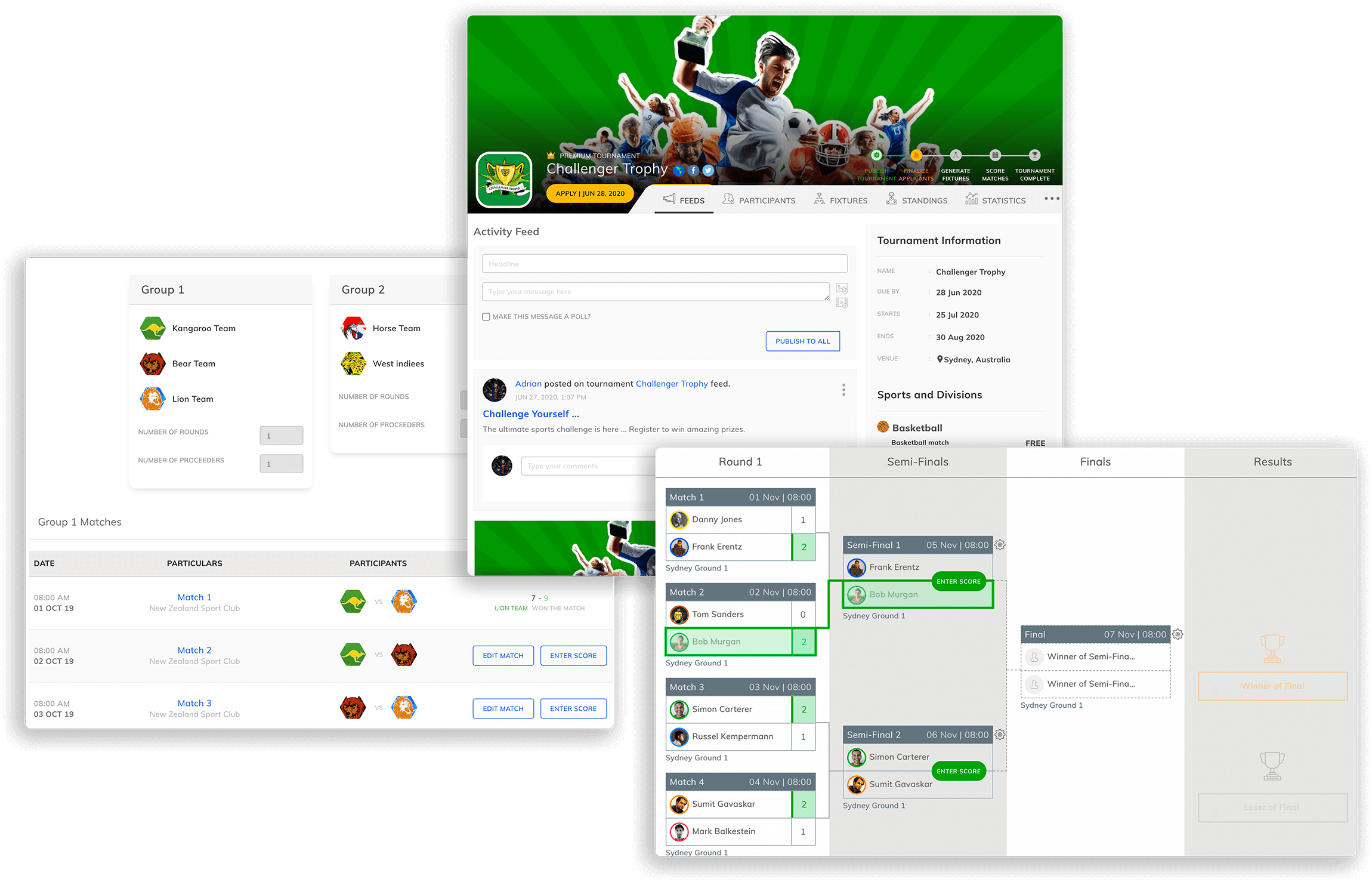 CHESS (CLASSIC) TOURNAMENT LIFECYCLE
From Start To Finish - Everything You Need To Run Your Chess (Classic) Tournament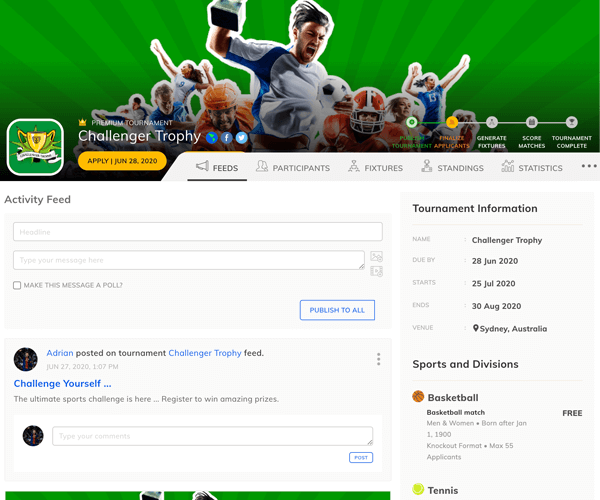 CHESS (CLASSIC) TOURNAMENT WEBSITE
Tournament Microsite keeps participants informed while they are away from the field, and lets you manage your tournament, all in one place.
CUSTOMIZE REGISTRATION FORMS & COLLECT PAYMENT
Build a registration process that's tailor-made for your tournament and generate easy-to-use forms
Collect registration fees securely using our integrated payment gateway, which will be directly transferred to your account.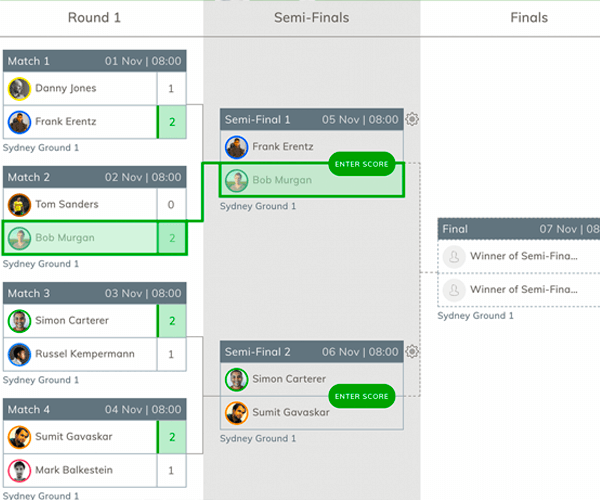 AUTO SCHEDULE FIXTURES & BRACKETS
With our automatic fixture generation features, you can now organize tournaments of any size for Brackets, Round Robin and Groups+ Play offs formats with unmatched simplicity.
For on the spot registrations and other formats you can use our custom fixtures format.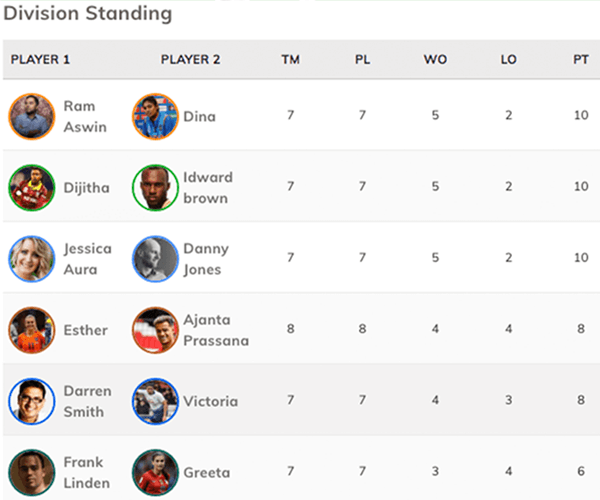 SCORING, STANDINGS & STATISTICS
Capture each game with a comprehensive scorecard with room for every detail.
The standings of your tournament and the statistics of every player get automatically updated instantly.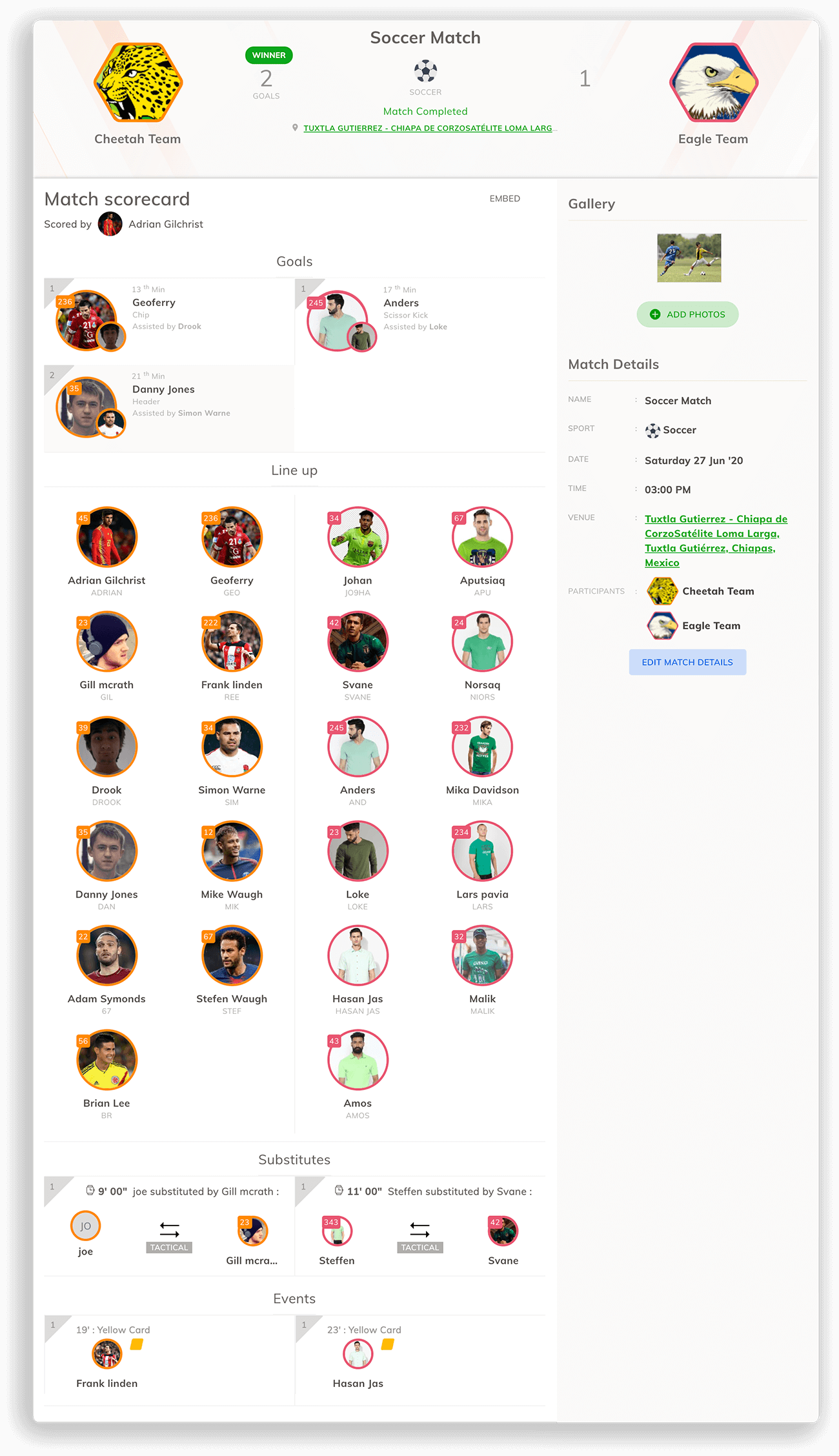 Online Chess (Classic) Scoring
Capture Chess (Classic) Match Scores and Let PLAYINGA Derive The Statistics
Score your match right from the field and automatically publish them on PLAYINGA. A lucid design and easy interface that makes scoring on the go possible with room to capture every detail of the match.
PLAYINGA's built in scoring engine enforces sports specific scoring rules thereby preventing scoring errors. Be it any sport, score with PLAYINGA.
Setup Practice And Standalone Chess (Classic) Matches.
Play and track unlimited individual practice or informal matches with friends. Record scores and keep track of performance like professional matches.
Scoring Features
FOR CHESS (CLASSIC) PLAYERS
Your Chess (Classic) Network
Chess (Classic) Schedule Maker, Chess (Classic) Brackets Generator, Score Chess (Classic) Matches and Track Your Chess (Classic) Performance.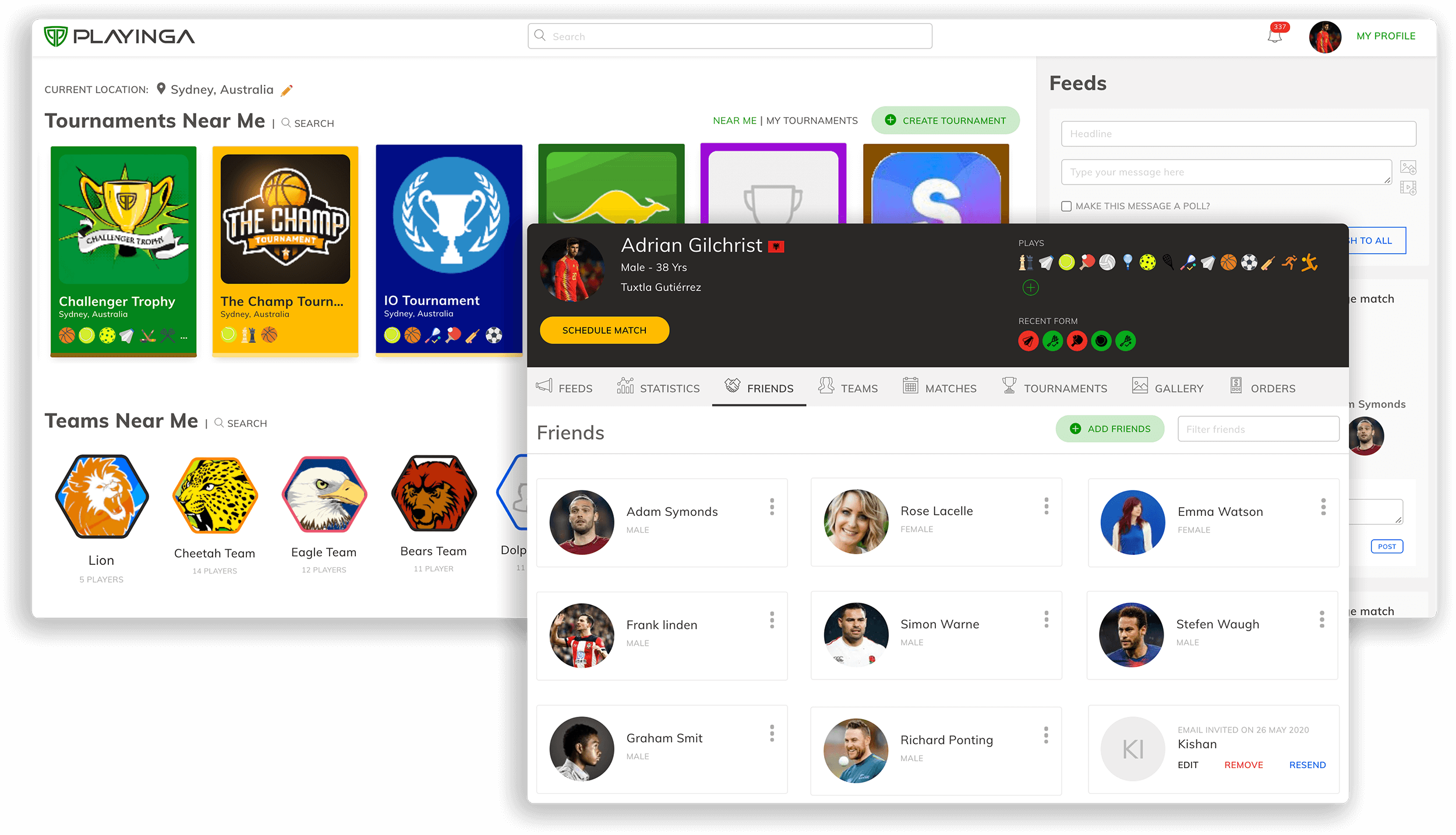 Find People At Your Skill Level To Play Chess (Classic) With
Looking for someone to play chess (classic) with? PLAYINGA helps you find players by skill level so you'll always have a better game with them.
Discover what your friends are playing this weekend and join them. You can also follow sports people in Rovo that inspires you to get stronger and more active.
PLAYER STATISTICS
Bring Your Chess (Classic) Game To The Next Level
Chess (Classic) Schedule Maker, Chess (Classic) Brackets Generator, Score Chess (Classic) Matches and Track Your Chess (Classic) Performance.
Exhibit Your Caliber
Showcase your abilities and let the world know the player you are, through your very own Player page that talks of your milestones and achievements.
Form Analyzer Report
With PLAYINGA, you get to see your aggregate performance over time across multiple sports that reflects your current form.
In-Depth Player Stats
Exceptional performance tracking ability with in-depth game specific statistics is just what you need to advance your sporting journey.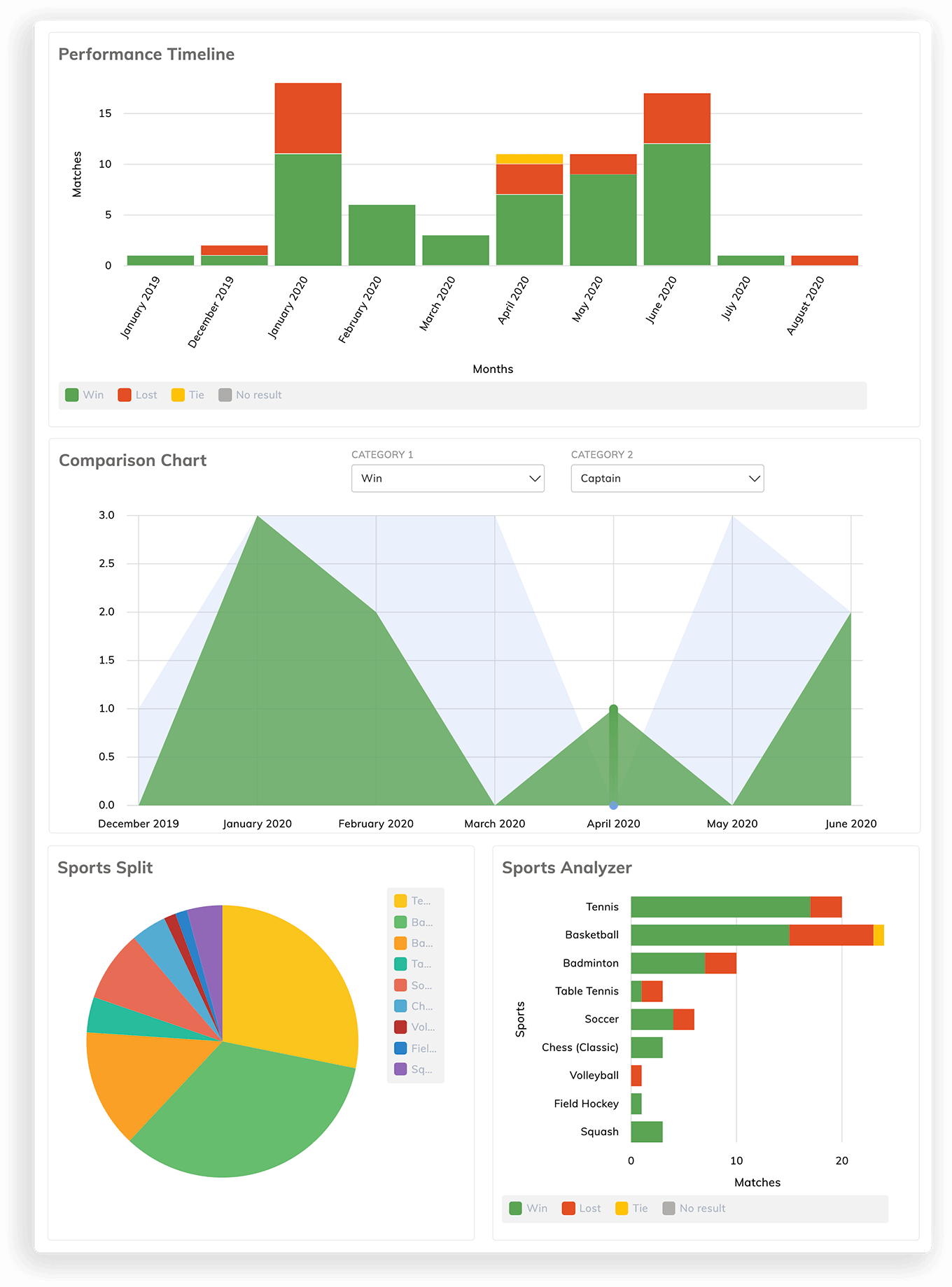 Other Features
Features of PLAYINGA Chess (Classic) Tournament Software
ACTIVITY FEED
Let the spirit of your tournament last longer through text and media feeds from players, teams and fans of your tournament from the field.
MULTI SPORT - MULTI DIVISION
One tournament can have multiple sports and multiple divisions (Eg. U19, Mens Singles), thereby allowing you to organize championships.
SEEDED PLAYERS
Add fixed seed numbers to players who may pass over the first round(s).
MULTI VENUE SCHEDULING
Schedule tournament matches across multiple venues. Matches gets scheduled based on availability of slots on those venues.
NEXT ROUND PREFILL
Players automatically flow through to the next round when they have won their match, no need for manual activities.
STATISTICS
Sports specific statistics gets aggregated division wise and tournament wise.
CUSTOM STANDINGS
You can add custom sport specific standing points like Net Run Rate, Fair Play Points etc and enter values in each match.
SPONSORS
Give your tournament sponsors the importance they need. Manage multiple sponsors across various categories.
E-MAIL UPDATES
PLAYINGA specifically informs the participant players & teams of the tournament progress and schedule changes.
ROLES & PERMISSIONS
Delegate tournament management responsibilities in the most granular ways to your organizing team.
Nothing To Setup. Ready When You Want To Play!